Bulletin Board
Our holiday hours: Christmas Eve: 7am-12pm, Christmas Day: closed, New Year's Eve: 7am-12pm, New Year's Day: closed. Happy holidays!
Expert Articles & Advice
December 1, 2013
If you're ever going to need a guest room, the Holidays would most likely be the time. As family and friends travel to be with each other during this time of year, what could be more welcoming than a thoughtfully prepared guest room?
November 15, 2013
A common complaint by homeowners who use a forced hot air heating system is that there can be a lot of dust build up. Of course, that is why filters are used in the heating system. But what if you've just replaced your filter and still are dealing with more dust than usual?
Special Offers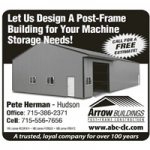 Call today for a FREE ESTIMATE!
Arrow Building Center Videos
GAF Roofing
Extreme Shingle Testing
More Videos brought to you by Arrow Building Center!