Design and Drafting Services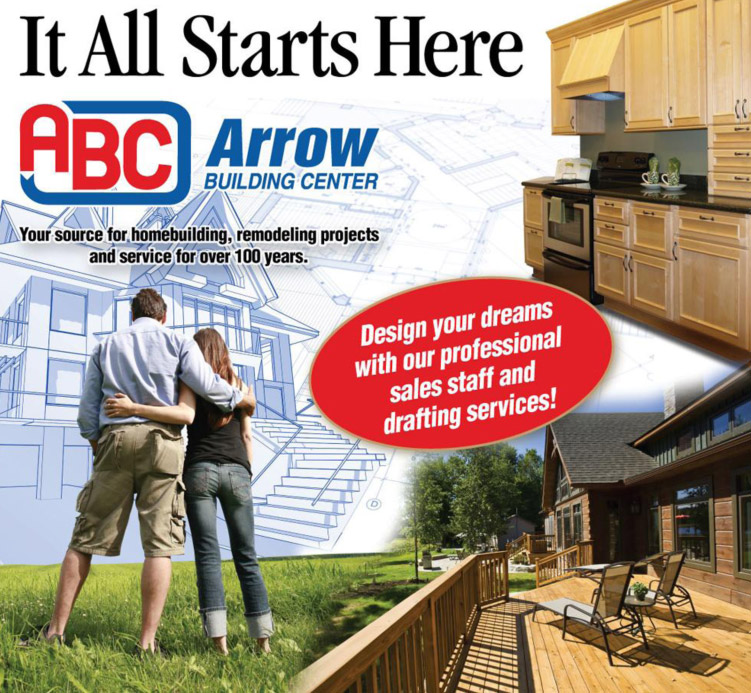 Bringing Your Ideas to Life!
Let Arrow Building Center Design and Drafting Services bring your ideas to life! Our design and drafting team can help you renovate that outdated kitchen, bathroom, or garage, add the three-season sun porch you've always wanted, finish off the basement, or make your dream cabin a reality. We provide our customers with design solutions for custom homes, cabins, garages, screen porches and decks; from agricultural buildings and pole buildings, light commercial work to multi-family structures, and everything in between. Let us help you plan your new room, deck or ideal outdoor sanctuary!
Our many drafting and design services include interior space planning and remodeling, residential and commercial handicap accessibility design, Green Build design, heat-loss calculations, wall bracing, structural beam analysis, and on-site field measuring and consultation. We provide homeowners and contractors accurate and timely blue prints, plans, drawings, and the necessary documents for material estimates, building permits, and actual construction process.
Where Challenges Meet Solutions
Arrow Building Center's Design and Drafting Services department uses computer generated CAD software, which gives us the flexibility at the click of a button to show our customers multiple layout ideas and looks for their project. We offer 3D services that allow customers to view a project in three dimensions, such as the exterior and interior of your home or building, or zooming in to see every detail for your dream kitchen or bathroom.
By partnering closely with Arrow Building Center's experienced sales people and trusted vendors, our Design and Drafting Team have a competitive edge by knowing where and how materials can and should be used. They have the unique opportunity to work with and learn from industry experts about engineered lumber, pre-engineered trusses, rafters, I-joists, and countless other products that affect the design of a structure. Combining our design solutions with extensive product knowledge and accurate in-house estimates allows us to offer our customers the best products that suit their individual project at competitive pricing.
For creative solutions that meet your designing challenges, please visit any of our Arrow Building Centers, or contact your local Arrow Building Center yard manager or sales representative for further details on any of our professional services.